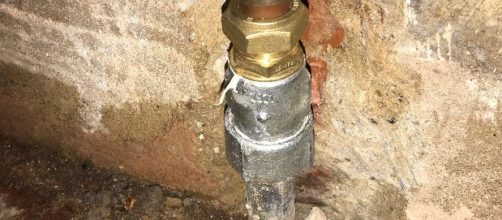 Replacing a stopcock on ¾ galvanised steel pipework
Posted 05 Dec 2017
Property Maintenance Issue – an Old Leaking Stop Cock
After encountering a problem with a leaking stop cock at a client site, the only way to solve the situation was to renew it as the existing unit was old and beyond repair. This decision raised another problem as the pipework was old ¾ inch galvanised steel which normally needs to be threaded. Exposing enough pipework to re-thread it was not an option without digging a hole in the floor to locate the pipework coming into the property. We felt that the cost and disruption to the client would have been excessive.
Clever technology – professionally installed
There is a remarkable fitting on the market called a primofit. This is a cast iron compression fitting that can solve these problems.  Generally, these fittings are not found in typical DIY centres and as such are best fitted by an experienced maintenance professional.  The primofit comes in sizes 3/8 inch to 3 inch and you see the range at https://www.enviropro.co.uk  
The pipe needed to be clean cut with an angle grinder and the burrs taken off and then everything cleaned with wire wool.  We then  installed the primofit part according to the manufacturer's specification.  The primofit product comes with all necessary fixtures together with full instructions.  We used a female coupling to connect the primofit to the copper pipe using ptfe tape. 
This ensured a neat result with no leak and a property maintenance client happy with an technically-elegant and effective solution to a problem that could been costly and disruptive.